INTERVIEW WITH LUCY VANDI: CEO AND EVENT PLANNER FOR MAMALU'S EVENT MANAGEMENT AND DECORATIONS
1) Name/Business Name: My name is Lucy Vandi and I'm the proud owner of "MamaLu's Event Management & Decorations, named after my grandma whom past away in October 2015.
2) What is your job title? I am the CEO, Event Planner and Decorator
3) Where are you currently base – Salone, UK or other? I am currently based in Sierra Leone (been here for the past 9 months)
4) How long have you being doing your business to date? Officially, I've been running the business in SL for 4 months now but I did few events in UK for advert purposes.
5) Location of your business (online or shop address): My office is located at 33 Pademba Road, Freetown. I can also be contacted via Facebook (MamaLu's EventManagement Decorations), and Instagram (MamaLu Vandi)
6) How would you describe yourself/Business? I would describe myself as a hard working and determined individual. I studied BA Business Studies at the University of Bedfordshire (2010). I am a mother of 2, as well as juggling business and motherhood, I'm currently studying Law. I also have a clothing line; HouseOfMummy_DD. As for the Business, what can I say? It's a new venture and it's something I had passion for as I was always helping to plan events for friends and family members. So I decided to to enroll on an online course and did a Diploma on Event Management and Wedding Planning so I can have an educational background on how to run the business and what it entails.
7) What are the challenges that you face as a business owner? I am yet to face any serious challenges, financial would have been a challenge if not for Bank of Daddy(lol). But the main challenge is educating clients in Sierra Leone because they don't really know what event management is; they are more confused on the prices. They want all the finer things on a small budget.
8) Why did you decide to go into business? The main reason I decided to go into this Business was after I had planned and decorated my son's first birthday party in 2014, and helping my sister in law with her wedding, she praised me and said maybe I should consider doing it as a Business. From seeing the beautiful decorations on #bellanija and social media of Nigerian weddings, I thought how awesome it would be to have that in Sierra Leone. And so I decided that I want to open the Business in Sierra Leone.
9) Do you sell any products in the business – What product/services do you offer? It's has only been the planning and decorating events at the moment but I am currently planning by September (2017) to start selling or hiring wedding dresses, suits, bridal party outfits and groomsmen, shoes etc.
10) If you were not doing your current business, what would you have preferred to do as a second option? If I wasn't doing my Business, I would probably be doing my Masters or have an office job or at my old job at Next.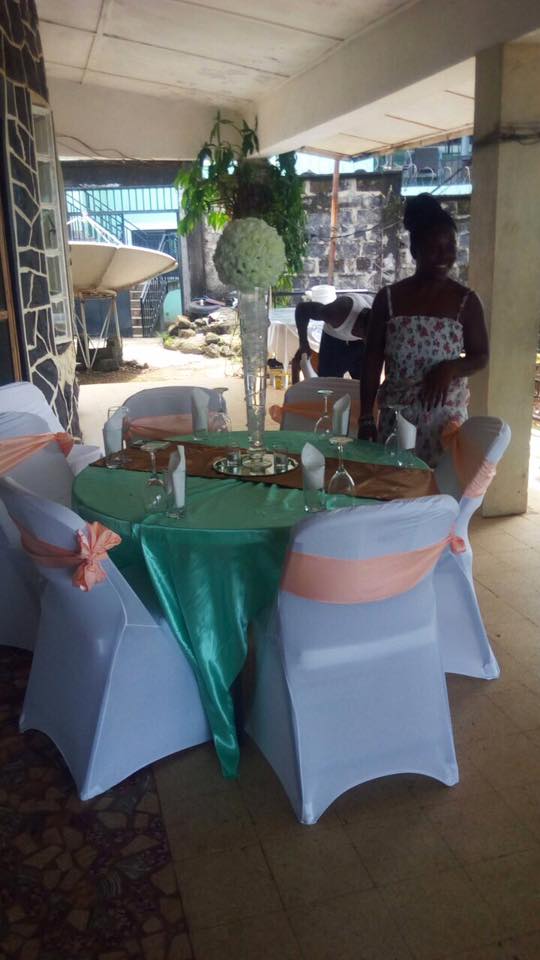 11) What is special about you or your business that is unique to customers? I think the special thing about my business or myself is that fact that I have the training and educational background for run the business effectively. I'm young and interactive with customers at social media level.
12) Where do you see yourself or your business in 5 years' time? In 5 years' time, I would love my Business to develop internationally as well as improving on my online presences and have my own business website. I would love for Event Management and Wedding decorations in SL to be on the same level as the Ghanaian and Nigerians, not just from MamaLu's Event and Decoration but to do business and partnerships with other business owners that are ready to put Sierra Leone on the world Map.
13) Your advice and tips for individuals that want to follow your footstep/career path? My advice would be, if u want it and believe in yourself then go for it. Don't let anything and anyone pull you down. Don't look at how long it it might take you to reach your goal but the satisfaction/feeling you will get once you get there should be the motivation.
14) How can they contact you or get through to you on social media? I can be contacted on Facebook (MamaLu Vandi, MamaLu's EventManagement Decorations) Instagram (Mummy_DD, MamaLu Vandi) and What'sApp: +23278204601