OFFICIAL SONG LYRICS OF CLOSE 2 YOU BY SEAN EAZIE
[soundcloud url="https://api.soundcloud.com/tracks/310476388″ params="auto_play=false&hide_related=false&show_comments=true&show_user=true&show_reposts=false&visual=true" width="100%" height="450″ iframe="true" /]
Close 2 You—($ean €azie)
INTRO:
Close to you uh uh yeah,
Close to you uh uh yeah,
It's your baby boy Sean Eazie…
Your girlfriend's favourite singer
CHORUS:
Even when the sky is falling down…
In the middle of the night when nobody's around…
Ar go bi CLOSE 2 YOU
Ar go bi CLOSE 2 YOU
Even when the sky is falling down…
In the middle of the night when nobody's around
Ar go bi CLOSE 2 YOU…
(2 you, 2 you)
Ar go bi CLOSE 2 YOU…
(2 you, 2 you)
VERSE 1:
Ar don try a little bit of everywhere
Don try a little bit of every girl
Ar don wait for so longfor the one
Wae r go call mi boo
From the day wae ar si yu
I knew this love was meant to be
All mi heart r don blant yu
My love for you is guarantee
Nyaligortee yu beautiful…
(Yu hair long lek river Rokel)
Nyagieva r go turn fool fool..
(Ar lek na pepeh ar go sell)
Yu fine yes na true
Your beauty is divine baby yu na wan of a kind…
To yu ar belong…so ar surrender all to yu my Ride or Die
CHORUS:
Even when the sky is falling down…
In the middle of the night when nobody's around…
Ar go bi CLOSE 2 YOU
Ar go bi CLOSE 2 YOU
Even when the sky is falling down…
In the middle of the night when nobody's around…
Ar go bi CLOSE 2 YOU…
(2 you, 2 you)
Ar go bi CLOSE 2 YOU…
(2 you, 2 you)
VERSE 2:
Ar lek dem sae yu na titi jog man
Ar lek dem sae yu nr dae last wit man
Ar lek dem sae yu na man Dori aay
Wans na for yu enisai ar go go hmm
Wi fiba lek Mitchelle nd OBAMA
For dis luv ar go fet lek MANDELLA
ar wan go put kola but bi keke ye e luma
For dis luv…it's now or never
I won't give up… 'cause we're better together
Ar sweh ar go do..
Anything for you
Babe anything for youuuu.
If yu na bin Soprano ar go bi di Base.
Oh what a perfect harmony !
Oh what a perfect harmony !
CHORUS:
Even when the sky is falling down…
In the middle of the night when nobody's around…
Ar go bi CLOSE 2 YOU
Ar go bi CLOSE 2 YOU
Even when the sky is falling down…
In the middle of the night when nobody's around
Ar go bi CLOSE 2 YOU
(2 you, 2 you)
Ar go bi CLOSE 2 YOU
(2 you, 2 you)
—TRUMPET INTERLUDE—
……………………………………………………………THE END……………..
CREDIT:
WRITTEN BY: $ean €azie
FB: @eaziesean
IG: seaneazieofficial2016
SD: officialseaneazie2016
Email: edwardbassie@yahoo.com
Whatsapp:http//chat.whatsapp.com/7jYZYHp2MeKFEsSxiueW1B
LABEL: Skill Entertainment
PRODUCED BY: Sticks
———-03/03/2017—————-
Biography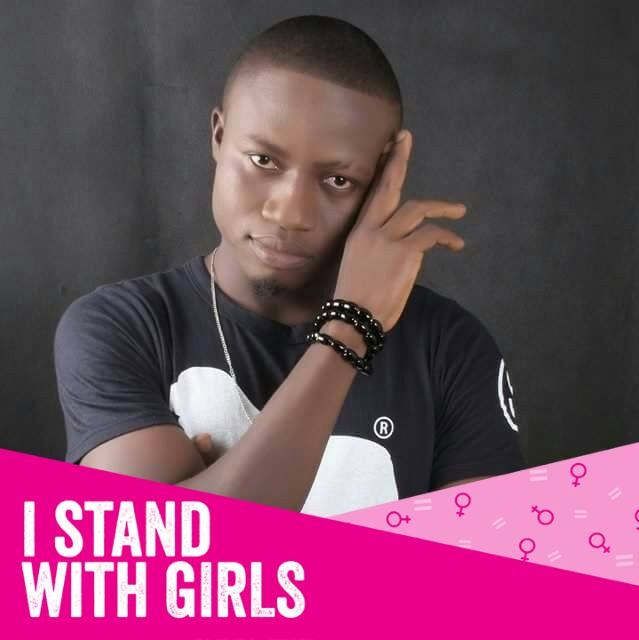 Sean Eazie was born Edward Conteh to a christian family of six. He is a singer/songwriter, aspiring Philanthropist, a women and girls' advocate. He was born in the late 80s, in Magburaka Northern Sierra Leone. He is the first son to Abdul Patrick Conteh and Marian Mariatu Conteh (late). He spent most of his childhood in his hometown and after losing his mother to a car crash in 2006, he was forced to move to Makeni, where he lived with one of his uncles Patrick L. Conteh.
Sean Eazie attended the Roman Catholic Primary school, the Government Secondary School for boys at Bathmorie Magburaka, and Saint Francis Secondary school Makeni respectively. In 2009, he moved to Freetown and in 2011, he gained admission at Fourah Bay College and graduated with a B.Sci. in Peace and Conflict Studies in 2015. He discovered his talent in music in his early days, especially during his days at high school a time when he represented his school and came first in an inter secondary shcools singing competition in 2007.
He is currently recording his Extended Play (EP) titled "The Best Is Yet To Come" and he is signed to Skills Entertainment. He came to limelight in 2016 after the release of his first single "NEVER SAY NEVER" off his EP. It became an instant success in the first week and top many radio charts nationally. Aside from that, the song also became a theme song for Life-By-Design and "Moment With Joe" two popular reality TV shows.
Since then, his passion for music has grown wide to the envy of many. His choice of words (lyrics) has put him to higher height with the evolving music industry. Sean Eazie has consistently been active in the entertainment industry and has put out a couple of other songs such as Save Our Women And Girls, The Drums, Kaderu Dae and quiet recently Close 2 You, and it's gradually becoming a success.
Aside from that, he has collaborated with a bundle of other musicians in a seemingly endless list of songs. His desire for good music and the the passion to lend a hand to where it is lacking is a force to reckon with. With the right management, it is hugely evident that Sean Eazie is certainly on of the acts from Sierra Leone with huge potentials of succeeding in the music industry.