Face of teen's award 2017 unquestionably is "the next big thing".  Nominees had been selected, and voting is underway.  Voting is expected to come to an end on the 20th of June 2017 at 5pm whilst the face of teen's awards night is slated for Saturday 15th July 2017 at the prestigious Bintumani Hotel.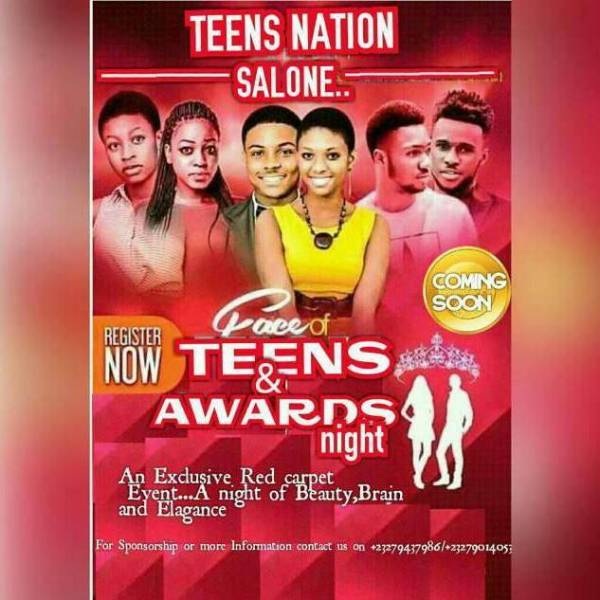 Nominees were carefully vetted so that so that it cuts across all works of life. There are categories like best young entrepreneur, best online promoter, best viral video, best school, best TV show, to name but a few, with  nominees  like the acclaimed former  Miss Universe contestant "Hawa Kamara" and former Big Brother Africa contestant "Zainab Sheriff", all in the mix.
Teen's nation award was specifically created to celebrate influential leaders who are working to create a platform for change among youths in the country. Speaking to I rep Sierra Leone media, the director of Teens Nation Sierra Leone, Madam Umu Kuntume Sall stated that: "Teens Nation Sierra Leone is giving out awards to businesses and individuals of diverse fields.  The incredible high ray of spotlight provided by the awards, as well as unrivaled access to a network of top entertainers and social change makers will spur winners into even more greater heights in their respective fields, "she added that Teens Nation Awards 2017is been initiated for the first time this year to celebrate and showcase the wealth of talent, commitment and enthusiasm and ambition among Sierra Leonean citizens".
To secure a seat for the red carpet event, call on any of the following numbers +23279014053/+23279437986
Entries for the event are as follows:
BRONZE – Le 50,000
SILVER – Le 150,000
GOLD – Le 250,000
PLATINUM – Donation