Alonzo treat Londoners/UK to his EP Launching on Saturday March 16th 2019
Audiences in London are in for a treat this coming Saturday, March 16th, as Sierra Leonean born Artist, Alonzo Teah Abasi, known by his legions of fans by a single moniker, Alonzo, will be electrifying the stage with the launch of his mixtape, 'Kroo Town Road Borboh.'
Alonzo is no stranger to big crowds. He burst into the scene after he was chosen out of hundreds of hopefuls by the United States Embassy in Liberia to win the singing competition geared towards raising awareness for HIV/AIDS in 2002.
The US Embassy then sponsored the release of the single which not only talked about the devastating effects of the disease, but also about prevention, and protection from the disease.
With his love for music ignited, Alonzo went on to record his 1st mixtape in Nigeria which was later released in Liberia in 2006. The mixtape, 'Innocent', was critically acclaimed as the singles, Angel, I Can't Believe, and title track Innocent resonated with audiences.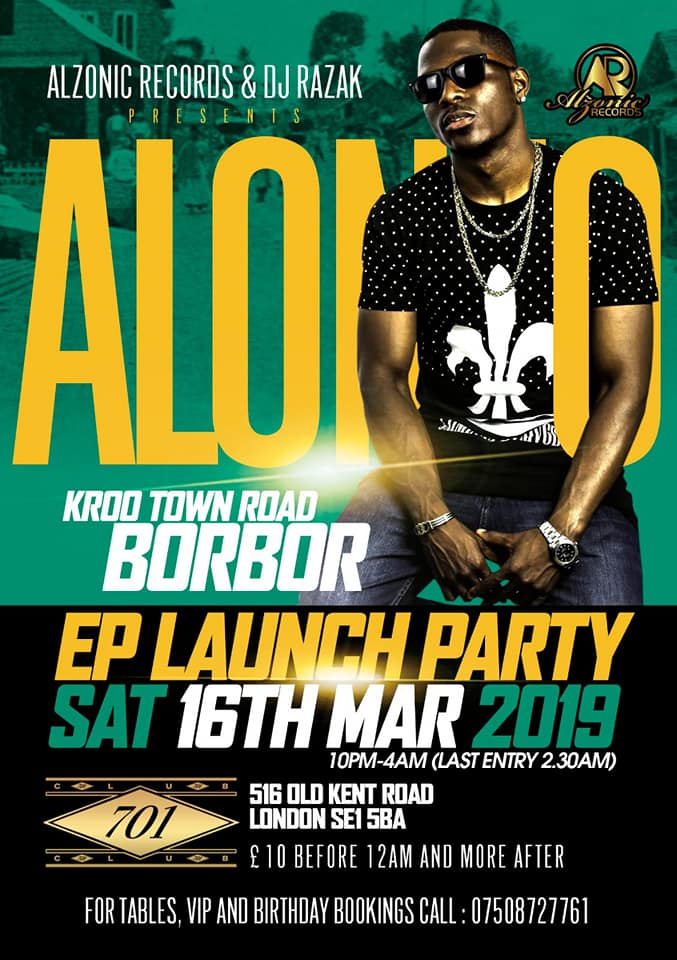 The song 'Angel' was about a long lost love who travelled abroad, but never kept in touch. He pined for his angel, and promised he would go looking for her until they are reunited. Not only was his sound in this song very smooth, and consistent, but he swoops, and turns in English, and Krio ( English patois commonly spoken in Sierra Leone) showing off his impressive falsetto, delivering a lush sound that becomes stuck with you after just one listen.
The sentiment in his other song, 'Innocent' is reminiscent of the Reggae Singer Shaggy's song, 'It Wasn't Me.' In this song, Alonzo, like Shaggy, tries to convince his girl that even though she may have seen him with another woman, it definitely is not as it seems.
He begs the woman to listen to him, so he can exonerate himself. It is not just love songs that Alonzo is good at, he is also very socially conscious. After being approached, and signed to Kallboxx Records in 2008, he released, Africa Unite.This gained traction with international audiences, and was on rotation at the BBC Radio Network.
This helped Alonzo land a lucrative deal with Sony, and BMG music. Very soon, Alonzo was on The Best of African mix with Artists he had looked up to all his life. The likes of Youssou Ndour, and Miriam Makeba, to name a few. Alonzo has won many awards both locally, and internationally.
Even though he appreciates the accolades, it is performing for his fans that gives him the most satisfaction. Join him this Saturday for yet another galvanising performance as he brings nostalgia with his old hits, and quench your appetite for his new music.
So, bring a friend, bring a lover or bring a brother, whatever you do, just make sure you do not miss the EP launch of 'Kroo Town Road Borboh', by yours truly, the one and only dynamic, and captivating ALONZO !!!!!!
© Bai Bureh Media.