Sierra Leone celebrates 58th Independence day: What does it means to Sierra Leoneans
Sweet Mama Salone, is a country on the southwest coast of West Africa. It has a tropical climate, with a diverse environment ranging. Sierra Leone was a British Crown Colony from 1808 to 1961. Sierra Leone became independent from the United Kingdom on 27 April 1961, led by Sir Milton Margai, who became the country's first prime minister. Sierra Leone, a country in West Africa, has a special significance in the history of the transatlantic slave trade as the departure point for thousands of west African captives. My country is also rich in diamonds and other minerals. English is the official language of Sierra Leone yet it is Krio, which originated with the freed slaves (Creole people) who returned to Sierra Leone after slavery. We Sierra Leoneans have a unique blend of cultural traditions. Sierra Leone is a leading example of religious tolerance. Muslims and Christians live side by side and intermarry. Muslims form about 60% of the population, Christians 30%.
What makes Sierra Leone Beautiful
Beaches & Islands:
Dotted along the Atlantic Ocean are some of the world's most beautiful pristine, white and unspoilt beaches. River No.2 Beach, Black Johnson, Banana Island, Turtle Islands.
Nature & Wildlife:
Sierra Leone offers a wealth of nature and wildlife opportunities.
Heritage:
Sierra Leone's rich heritage through its dark days as a slave outpost, from where thousands of Africans were transported to Europe and the Americas to it's establishment as a colony for freed slaves.
Freetown & the Western Area:
The vibrant and energetic capital city of Freetown is located in the Western Area of Sierra Leone framed by the majestic Sierra Lyoa mountains rising behind it.
Attractions:
National Museum, Big Market, Gateway to Old King's Yard, Maroon Church.
Our Pledge
I pledge my love and loyalty to my country Sierra Leone;
I vow to serve her faithfully at all times;
I promise to defend her honour and good name;
Always work for her unity peace, freedom and prosperity;
And put her interest above all else.
So help me God.
What does Independence means to Sierra Leoneans?
Sierra Leone Independence means a massive exploration of greatness in the coming years. I mean we've absolutely been through challenges and difficulties but we've always pulled through. We can and will achieve more greatness if we continue to put our differences aside and put the Interest of Sierra Leone ahead. To me Independent means freedom of making your own valid decisions and make it work. I am part of making a change by my inspirational conversation with viewers on all of my social media pages and I Motivate young women of Sierra Leone to keep a healthy lifestyle for their families. Go Mama Salone we will get there together and we will see more wonderful things happening in our homes and community. I Rep you the Lion King and will always do. No matter where the wind takes me your tears have always make me stronger Sierra Leone – A Sierra Leonean
Sierra Leone 🇸🇱 Independence Day means a lot to me as a unique symbol of celebrating freedom of our motherland Mamasalone from the white Man who invaded our country for more than a century ago and we finally regained our freedom on April 27th 1961 under the mighty Green, white and Blue colour – Marvin Sesay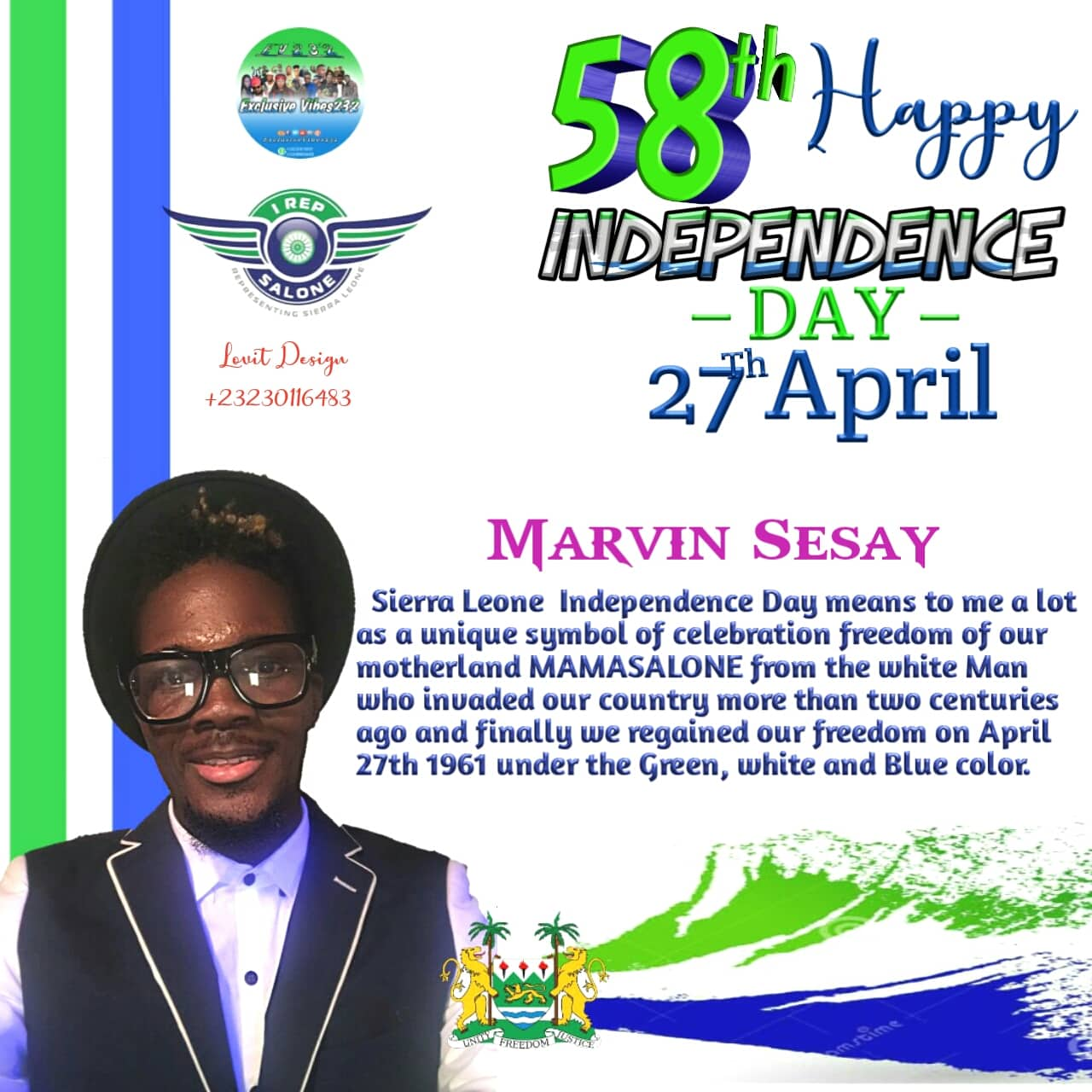 Sierra Leone independence means to me that we are in the state of freedom from dependence, exemption from reliance on, or control by other countries and direction of one's own affairs without interference. And For the past 58 years of independence there are some achievements although we are all hoping to see a better Sierra Leone which is corrupt free, Improved standards of living, lots of Jobs etc. But Nevertheless, I wish my country a blessed and happy 58th Independent Anniversary – Exo Don
Sierra Leone's Civil War a few years ago dreadfully destroyed structural and social constructs in the country, however Sierra Leone does not seize to be a home to most of us. It is still a place of peace, unity and amazing beaches and food so good it should be sung to the world. When I think of Sierra Leone's independence I think about always going back home, driving along the beaches peacefully while I ponder how the cassava leaves will taste when I get home. I think of laughter and waves of enjoyment, I think of vacations with drama filled episodes. But most especially I think of a town, free for everyone to be whoever they want – Mr Bright
Sierra Leone's independence reminds us of our collective dreams as a country and how we have failed to push ourselves to be among countries that are called "great". Compared to Malaysia, Singapore, Mauritius, etc. who we gained independence before, we need to use this day to plunge deep down the sanctum sanctorum of our beliefs, responsibilities and strengths and re-emerge with a new spirit of nationalism that should be geared towards REMAKING, REINVENTING and REDIRECTING our country's path towards greatness – we will have nothing to lose in that new spirit but our poverty – Francis Ben Kiafala
Sierra Leone Independence means a massive exploration of greatness in the coming years. I mean we've absolutely been through challenges and difficulties but we've always pulled through. We can and will achieve more greatness if we continue to put our differences aside and put the Interest of Sierra Leone ahead. To me Independent means freedom of making your own valid decisions and make it work. I am part of making a change by my inspirational conversation with viewers on all of my social media pages and I Motivate young women of Sierra Leone to keep a healthy lifestyle for their families. Go Mama Salone we will get there together and we will see more wonderful things happening in our homes and community. I Rep you the Lion King and will always do. No matter where the wind takes me your tears have always make me stronger Sierra Leone – Hawa Hunt
Sierra Leoneans Independence Pictures 2019