THE OFFICIAL NOMINATIONS FOR THE #NEA AWARDS (NATIONAL ENTERTAINMENT AWARDS) 2017
It has been officially confirmed by IDT LABS that, they have received over 100,000 votes so far as of (31 March 2017).
"OVER 100,000 VOTES RECEIVED SO FAR AHEAD OF NEA AWARD", says iDT LABS Expert. iDT LABS expert has officially confirmed the over one hundred thousand votes received so far, in 3 days of SMS public voting from both local and international voters.
Please see breakdown of statistics below to know which category has received the highest SMS votes
In another development, the Award Panel wishes to inform all nominees and the general public that successful votes could ONLY be received from any AIRTEL network. People can now vote via AIRTEL at most Five Times daily.
PLEASE NOTE:
Facebook voting will resume early next week, as iDT LABS technicians are untiring working on the automation process.
From next week, both local and international voters would be able to cast their votes via our Automated Facebook Voting Platform
MOBILE VOTING INSTRUCTIONS
1⃣ Send NEA as an SMS ONLY from an Airtel network to +23278105010 and wait for the response to select your Category and Sub-category.
VOTING ENDS
24th April 2017
COMPILATION OF RESULT
24 to 25th April 2017.
WINNERS ANNOUNCE
29th April 2017 @ the Bintumani International Auditorium.
7pm Red Carpet
9pm Award Ceremony
3am After Party
The 2017 NEA Awards is a glamorous celebration of artistry, honouring excellence in Sierra Leone Film making, Music, Sports, Comedy and Cultural Heritage. Be Part of Change and Transformation of the Sierra Leone Entertainment Industry!!!
©Sulaiman Stom Koroma
Head of Communications & Media Relations-LAKE Productions Company
List of full nominations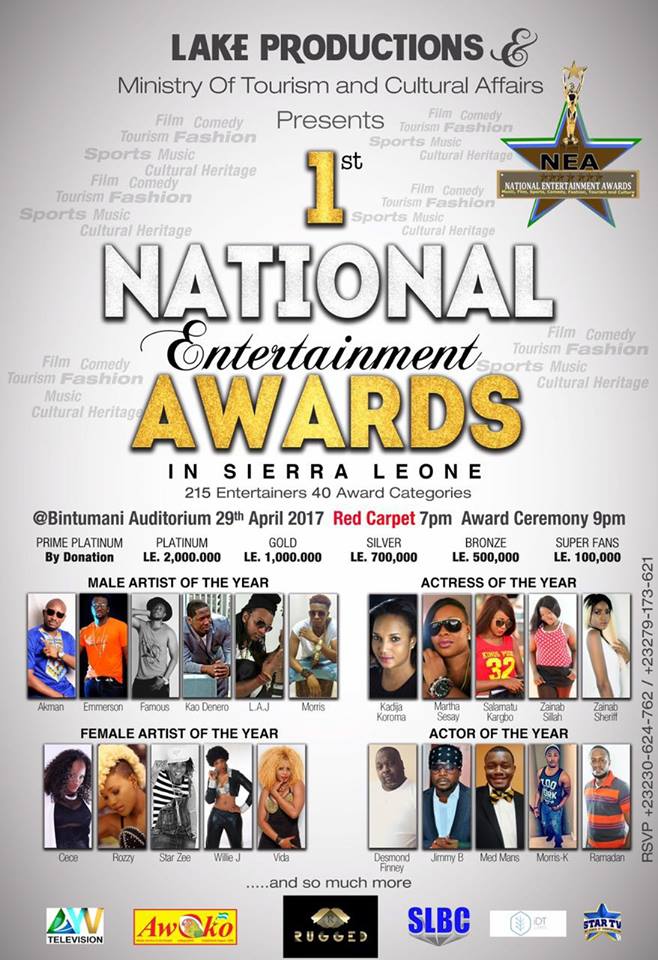 MUSIC CATEGORY
BEST ALBUM OF THE YEAR (BAM)
1. 'SURVIVOR' BY EMMERSON
2. 'NEW AGE VIBES' BY DALLAS-B
3. 'VANITY' BY ARKMAN
4. 'INSPIRATION' BY PROBLEM-M
5. 'NOW OR NEVER' BY KAO DENERO
6. 'OVERDOSE' BY ALONZO
BEST HIT SINGLE OF THE YEAR (BHS)
1. 'KORKOH' BY FAMOUS
2. 'KAM JOIN WE BOO' BY YUNG SAL
3. 'AZZAMBA' BY PRODIGY-
4. 'POP COLLAR' BY DRIZILIK
5. 'BOOGIE DOWN' BY MORRIS
6. 'CHERR AM BY LxG
BEST FEMALE ARTIST OF THE YEAR (BFA)
1. ROZZAY
2. CECE
3. VIDA
4. STAR ZEE
5. WILLIE-J
BEST MALE ARTIST OF THE YEAR (BMA)
1. EMMERSON
2. MORRIS
3. ARKMAN
4. KAO DENERO
5. FAMOUS
BEST AFRO R&B ARTIST OF THE YEAR (BRBA)
1. DANNY-J
2. RAHIM
3. MORRIS
4. K-MAN
5. ABIZZY
6. ALONZO
BEST HIP HOP ARTIST OF THE YEAR (BHHA)
1. TERROR-D
2. SHADOW BOXER
3. KAO DENERO
4. YOK-7
5. SHINE
BEST GOSPEL ARTIST OF THE YEAR (BGA)
1. GILLEH KEBBIE SCHOLZ
2. AVI
3. VICTORIA DEEN
4. MEMUNATU KABIA
5. LADY MACKIE
6. SISTER CORDILIA
BEST DANCEHALL ARTIST OF THE YEAR ( BDA)
1. DALLAS BANTAN
2. MORRIS
3. KING SOLUTION
4. STUNTMAN
5. SUPER SAA
BEST LIVE PERFORMER (BLP)
1. SHINE D' GODSON
2. FAMOUS
3. DRIZILIK
4. FANTACEE
5. COSKO-B
BEST MUSIC GROUP OF THE YEAR (BMG)
1. LxG
2. STEP-Q
3. KRACK TWIST & SAMZA
4. MAKMUDAE & ROZZY
5. 441
6. DOUBLE BANGS
BEST NEW ARTIST OF THE YEAR (BNA)
1. YUNG SAL
2. DRIZILIK
3. PRODIGY
4. JQ
5. ZAINAB SHERIFF
BEST MUSIC VIDEO OF THE YEAR (BMV)
1. NA YU GBAIN GBAIN BY ALONZO
2. HAPPY BY MORRIS
3. PARTY ANIMAL BY E-PLUS
4. I LOVE YOU BY JIMMY-B
5. TEKNEH BY RAHIM FT ALONZO
6. WHAT'S MY NAME BY JAY MANE
BEST DIASPORA ARTIST OF THE YEAR (BDA)
1. ALONZO
2. JQ
3. TERROR-D
4. RAHIM D WIZARD
5. KAO DENERO
BEST MUSIC PRODUCER OF THE YEAR (BMP)
1. NASHITO KULALA
2. WILBERT
3. MASTER RELL
4. YOUNG LEE
5. SOUND BOY RICHIE
6. LORD MO
BEST CULTURAL ARTIST OF THE YEAR (BMP)
1. INTERNET MAN
2. STEADY BONGO
3. SLIM-G D' VIPER
4. JENEBA KOROMA
5. LAMZI PEE
6. BOBBY
FILM & TV CATEGORIES
BEST LEAD ACTOR IN A FILM (BLA)
1. JIMMY-BANGURA-GENESIS
2. DESMOND FINNEY-MR. IBU IN SIERRA LEONE
3. RAMADAN BARRIE-DEADLY TWINS
4. MICHAEL PHILIP-FREETOWN
5. ABDULAI 'GLAMOR' KAMARA-CORNER KICK
BEST SUPPORTING ACTOR IN A FILM (BSA)
1. MORRIS K. SESAY-KAMARA'S TREE
2. BOBBY GRAY-NEXT PRESIDENT
3. MUSA I DUMBUYA-TEMPLE OF GHOST
4. ALHAJI OKEYAN-MY IN LAW
5. PAUL "Promise" GEORGE-RETURN OF GINA
BEST LEAD ACTRESS IN A FILM (BLAF)
1. ZAINAB SHERIFF-ELEPHANT IN THE ROOM
2. ZAINAB SILLAH-TEMPLE OF GHOST
3. SALAMATU KARGBO-DEEP IN THE GAME
4. EAJATU BARRIE- HEART OF FORGIVENESS
BEST SUPPORTING ACTRESS IN A FILM (BSAF)
1. THELMA BARNETT-SAVED BY GRACE
2. MARTHA SESAY-SARA IN NIGERIA
3. HAWA KAMARA-WILD EMOTION
4. SUSAN PENDEMA-DESPERATE RIVALS
5. KADIJA KOROMA-ELEPHANT IN THE ROOM
BEST FILM DIRECTOR OF THE YEAR (BFD)
1. MOHAMED JANNEH-VIOLATOR
2. EMMERSON Y. DUMBUYA-TEMPLE OF GHOST
3. JOHN SOLO-MR. IBU IN SIERRA LEONE
4. AUGUSTUS O. THOMAS-HEART OF FORGIVENESS
5. LANSANA "SPARTA" KAMARA-SAVED BY GRACE
BEST PICTURE OF THE YEAR (BFP)
1. MR. IBU IN SIERRA LEONE
2. SECRET PAST
3. NEXT PRESIDENT
4. ELEPHANT IN THE ROOM
5. HIGH FASHION
BEST ACTRESS OF THE YEAR (BAY)
1. MARTHA SESAY
2. ZAINAB SHERIFF
3. SALAMATU 'ISHA' KARGBO
4. KADIJA 'DIJAH KAY' KOROMA
5. ZAINAB 'GINA' SILLAH
BEST ACTOR OF THE YEAR (BA)
1. MORRIS K. SESAY
2. DESMOND FINNEY
3. RAMADAN BARRIE
4. JIMMY BANGURA
5. MOHAMED 'MEDMANS' MANSARAY
BEST FILM OF THE YEAR (BF)
1. SANTANA CITY
2. ELEPHANT IN THE ROOM
3. VIOLATOR
4. NEXT PRESIDENT
5. WILD EMOTION
BEST INTERNATIONAL ACT OF THE YEAR (BRS)
1. DAVID VANDI-VOA PRESENTER
2. MOHAMED SANU-USA SUPER BOWL STAR
3. ISHA SESAY-CNN PRESENTER
4. JMAIER-ACTOR/MUSICIAN
5. COLLINS ARCHIE-PIERCE-ACTOR/PRODUCER
BEST VISUAL EDITOR OF THE YEAR (BVE)
1. BULLS
2. NICK ASGIL
3. AYOUBA
4. MAMUD
5. MAKE
BEST FILM DOCUMENTARY OF THE YEAR (BFD)
1. 'THEY ARE WHO WE ARE' BY DR. CHRISTOPHER
2. 'FISTULA FOUNDATION' BY KING RAHMAN
3. 'BONDO NA WI BIN CULTURE' BY PAPA EDWIN SHAW
4. 'THE RISE & FALL OF MAMA SALONE' BY MOSH
5. 'VICTIM OF SOCIETY' BY ISCANDRI A. SANKOH
BEST TV PRESENTER OF THE YEAR (LIFESTYLE) (BEP)
1.HURAI BANGURAH-AFRICA TOP-10-AYV
2. PHEBIAN SWILL-PHEB SWILL PLATFORM-AYV/STAR TV
3. BASHIRU SANUSI-SALONE TALENT-STAR TV
4. MOHAMED KING MILAN-MUSICAL MIX-SLBC
BEST COMEDIAN OF THE YEAR (BCA)
1. DESMOND BENYA
2. SARA D' GREAT
3. VAMBOI
4. SAYIO SESAY-U WAN LAUGH COMEDY
5. IBRAHIM LOBO KOROMA-LAUGH OUT COMEDY
SPORTS CATEGORIES
BEST SPORTS WOMAN OF THE YEAR (BSW)
1. HAFSATU KAMARA-ATHLETE
2. BINTURABI JALLOH-SWIMMER
3. BINTA BAH-VOLLEYBALL
4. CHRISTIANA BJ THOMAS-FOOTBALLER
BEST SPORTS MAN OF THE YEAR (BSM)
1. KEI ANSU KAMARA-FOOTBALLER
2. OSMAN KAMARA-SWIMMER
3. EMMANUEL KAMARA-CRICKETER
4. WILLIAM GALLEX-WEIGHLIFTER
BEST SPORTS PERSONALITY OF THE YEAR (BSM)
1. PA SAMA SESAY-COFA CHAIRMAN
2. AHMED KHANOU-FORMER SLVA SEC. GEN.
3. RODNEY MICHAEL-SPORTS ADMINISTRATOR
4. IBRAHIM BANGURA-DIRECTOR OF SPORTS
5. ISHA JOHANSON-SLFA PRESIDENT
BEST SPORTS JOURNALIST OF THE YEAR (BSJ)
1. SAHR MORRIS JNR.-CONCORD TIMES
2. MAGDALENE KONNEH-MERCURY RADIO
3. ABDUL KARIM SESAY-AIRADIO
4. BASH KAY SHERIFF-BO KISS 104
5. BERNARD TURAY-AWOKO NEWSPAPER
6. ISHMAIL SAIDU KANU-BBN RADIO
OTHER CATEGORIES
RADIO DISK JOCKEY OF THE YEAR (DRJ)
1. MASTER JE-AIRADIO
2. HENZO-AYV RADIO
3. LAWVA-RADIO-D
4. KALLOX-CITIZEN RADIO
5. SORIEBA SPECIAL-SLBC
6. CPO- KALLEONE RADIO
CLUB DISK JOCKEY OF THE YEAR (DCJ)
1. DJ FADER
2. DJ BHAI
3. DJ MOSE
4. DJ BUSY
5. DJ FOXY
6. DJ CROSS
BEAUTY QUEEN OF THE YEAR (FMY)
1. MARIATU DUKURAY-MISS TOURISM-CHINA
2. MASERAY SWARAY-MISS INTERNATIONAL-JAPAN
3. JOSEPHINE KAMARA-MISS EARTH PHILIPINE
4. AMINATA BANGURA-MISS SIERRA LEONE
5. HAWA KAMARA-MISS UNIVERSE PHILIPPINE
6. MAGRETE MURRAY-FORMER MISS SALONE & MODEL
BEST NIGHT CLUB OF THE YEAR (BNC)
1. LAGOONDA
2. WAREHOUSE
3. QUINCY
4. 2 GUYS
5. VYBZ
6. EASTERN PADDIES
BEST ONLINE PROMOTER (BOP)
1. HASSAN IFTONI-www.slmi.online
2. DJ DUL BANG- www.officialmamasalone.com
3. JESSIE D' SAVIOUR-www.greenandblackmovement.com
4. DJ DAWISH-www.stylishentsl.com
5. TRIPLE-A-www.sierranetworksalone.com
6. MURTALA-www.salonejamboree.com
BEST HOTEL OF THE YEAR (BSC)
1. RADISSON BLU HOTEL
2. BINTUMANI HOTEL
3. GOLDEN TULIP HOTEL
4. COMPANERO HOTEL
5. WUSUM HOTEL
FASHION HOUSE OF THE YEAR (FHY)
1. ALFANTIC BOUTIQUE
2. MADAM YOKIE
3. FASHION STAR BOUTIQUE
4. BIG BROTHER BOUTIQUE
BEST RESTAURANT
1. Roy Restaurant
2.The Spine Restaurant
3. Gina's Restaurant
4. Radisson Blue Restaurant
5. Crown Bakery Restaurant
'The 2017 National Entertainment Awards is a glamorous celebration of artistry, honouring excellence in Sierra Leone Film making, Music, Sports, Comedy and Cultural Heritage.' …. Hon. Sidie Yayah Tunis, Minister of Tourism and Cultural Affairs
POWERED BY:
1⃣LAKE Production Company
2⃣Ministry of Tourism and Cultural Affairs
3⃣RUGGED Sound Company
SUPPORTED BY:
1⃣iDT LABS
2⃣AWOKO
3⃣AYV Television
4⃣SLBC
5⃣Star Television
6⃣Pocket TV from Nigeria
For Sponsorship Please Contact:
+23230 624762
+23279 173621
The 2017 NEA Awards will take place on the 29th April, at the Bintumani International Auditorium, under the Distinguished Grand Chief Patronage of His Excellence, President Dr. Ernest Bai Koroma.
GOD BLESS SIERRA LEONE!!!