Free sanitary pad distribution hits Lungi, Lunsar, PortLoko and Masiaka
Her Excellency, Madam Fatima Maada Bio has on Wednesday 24th FEBRUARY 2021 continue with the distribution of the Free Sanitary Pad to school girls within Lungi, Lunsar, Port Loko, Masiaka environs, as part of a Nationwide distribution process that will target 60,000 beneficiary.
Speaking during the distribution exercise, the Resident Minister Haja Isata Abdulai Kamara in her statement, said that history has been made in her region, and that the government is a people cared centered government who takes nothing more precious, than the people they are serving.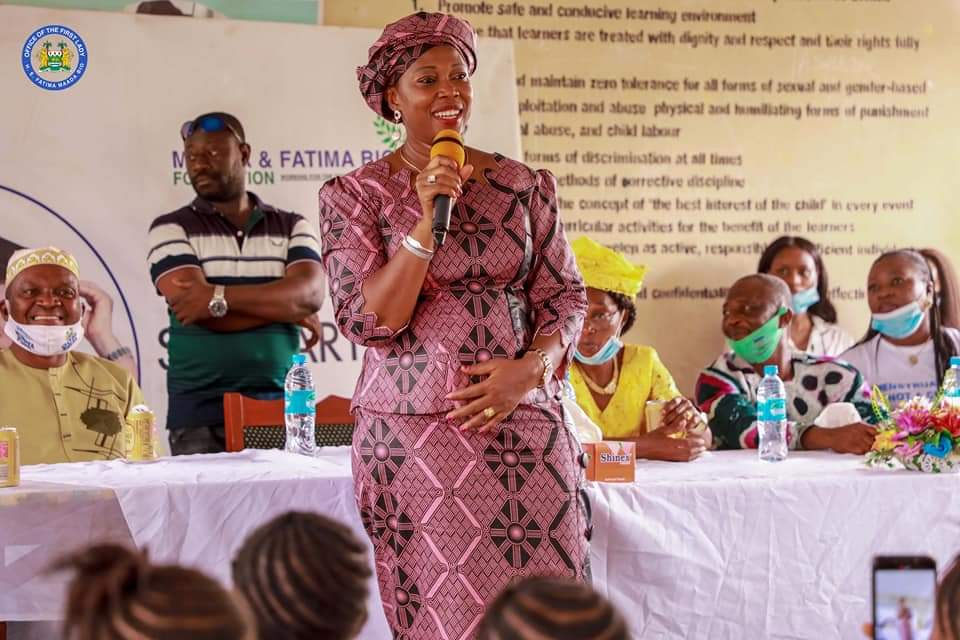 She added that in the history of the country, it is the first time a First Lady is undertaking such a project.
"The First Lady is a champion for women's empowerment and a respecter of human beings," she said.
The resident minister stated that the girls will never forget her visit as the distribution is a felt need one.
The First Lady in her statement said, she is in school because H.E the President believes in the empowerment of the girl child, hence is committed to giving them the same opportunity as boys so that together they can develop Sierra Leone in the future.
The CEO of Maada and Fatima Bio foundation Mrs Samba in her addressing the pupils added that, she stand as a proud woman to see the historic event, as the foundation has been existing for the last two and half years, and they have been working towards developing girls through the Hands Of Our Girl's campaign which is the flagship program of the First Lady, and have also gone nationwide doing advocacy and creating awareness on the need to empower and protect the Girl child.
Giving a welcome remark at the schools the Principals appreciate the First Lady for her commitment in protecting the Girl child and for always thinking about visiting their schools, as she has been doing that before her present present status.
He affirmed that the Free Sanitary Pad distribution is an indication that the First Lady is passionate about girls to stay in school, while assuring Madam Fatima that the girls at school shall do excellent in their exams and make good use of the Sanitary Pads and not sell them.
In her statement at the distribution event in all the schools in Lungi Ammaddiya muslim Secondary school, Port Loko Catholic Secondary School, A D Wurie Secondary School Lunsar, and Ammaddiya Secondary School Masiaka, Madam Fatima told the cheerful young girls that menstruation is not a crime and therefore, they should not be ashamed of it.
"Menstruation is not a choice, you need not to be ashamed because it is not a crime" Madam Fatima told the girls. She admonished them to focus on their education and say no to early marriage and teenage pregnancy.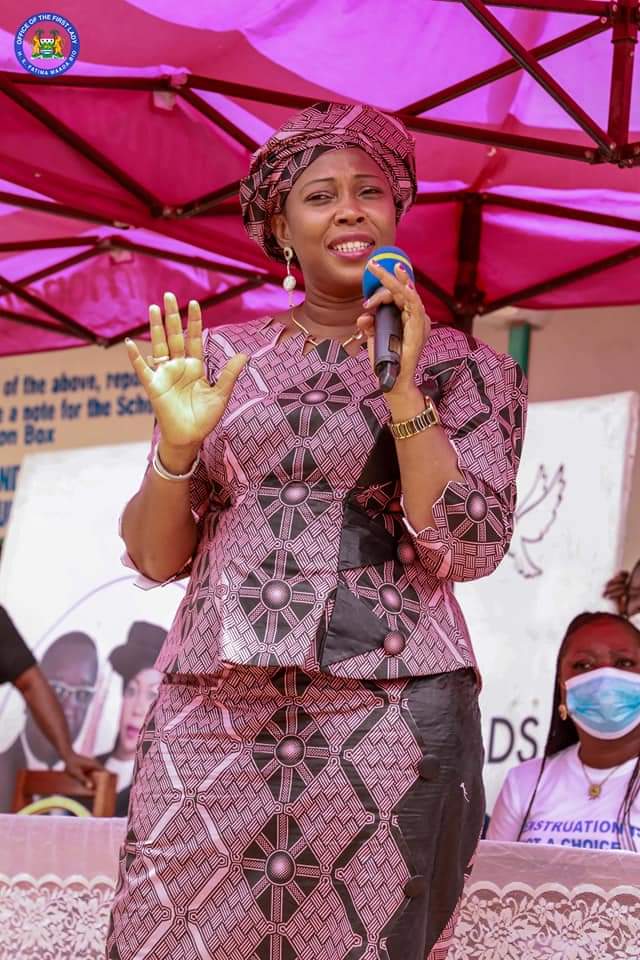 She said the delivery of the Free Sanitary Pad is in fulfilment of a promise she and H.E President Julius Maada Bio made to provide hygiene sanitary pads to school girls as part of the 'Hands off Our Girls' Campaign to keep them in school during their menstrual circle, therefore, the idea of the First Lady to provide free sanitary pad for young girls has been welcoming across the country and describe by many, as a project that aims at liberating young girls from the systemic cultural shame and embarrassment.
The ' ' campaign serves as a defense for young women against well placed men in society who use underage girls as a sex object for pleasure.
Madam Fatima said Sierra Leone can only change if we as Sierra Leoneans understand what patriotism truly means, adding that it is ok to believe in one's political party but it is better to believe in one's country and humanity.
She states that sex is inevitable but it is better to have sex at the right time and urge the girls that sex should not be their priority while in school.
The First Lady urges the girls to focus on their education as it is with education that they will be assured of a promising future.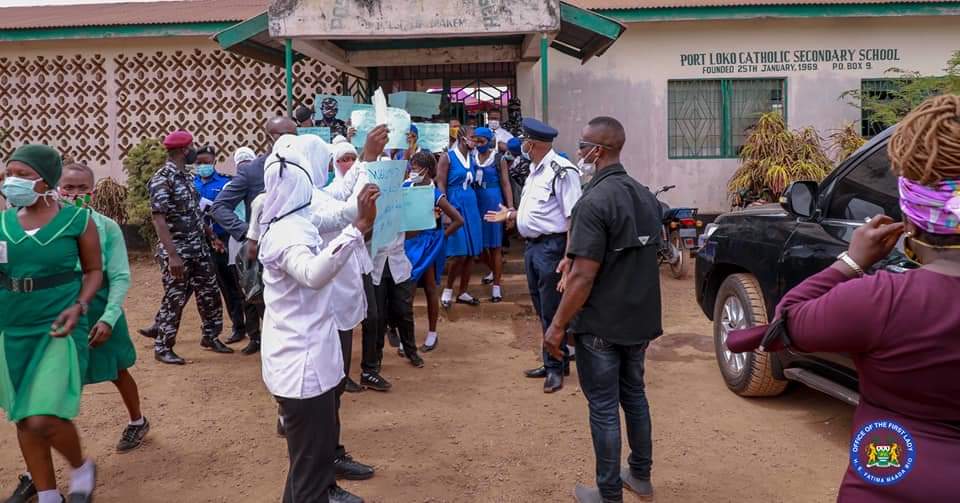 She disclosed that she engages in Hands Of Our Girl's campaign tour to get to know her girls from a close proximity and for them to get closer and feel free to see and interacact with her and be inspired by her story and what it means to be a resilient woman.
Other highlights of the distribution tour included performances by Markmuday and Rap Gee.