Daddy Saj completes his second degree in the United States
By Ibrahim Sorious Samura
The search for knowledge is ever innate in man in every sphere of his endeavours. From the crib to the casket, the quest for seeking knowledge (either by assimilation or formal means) remains an unending one. That notion well epitomises Daddy Saj's decision to pursue higher education abroad after a successful music career.
Getting to the top of his music career has never stopped Joseph Gerald Adolphus Cole, popular on stage as Daddy Saj or Diamond Saj to pursue his childhood dream of becoming an educated elite. Saj sacrifices his pleasures and his music career in the United States to achieve this dream.
On the 1st June 2018, Daddy Saj graduated with a second degree (RN-BSN Bachelor's degree) in Nursing Health Science at the City University of New York School of Professional Studies in the United States of America. This is in addition to his earlier Registered Nurse AAS Associates degree he earned in 2014. This has put him among the highly educated Sierra Leonean musicians. The untold story of his academic prowess has been unravelled in this piece.
Well known for his 'Corruption' famed song in 2003, Daddy Saj is one of Sierra Leone's finest rappers who uses his rap music to speak out the ills of society. He is one of the few Sierra Leonean artists who was highly acclaimed in Africa and beyond in the early 2000s.
Daddy Saj started recording his first album at the Back Street Studio in Central Freetown in 1996, which was produced by the late Tony Boy. The album was however not a successful one. He fled Freetown for Conakry due to the outbreak of the war in 1997 and lived there as a refugee.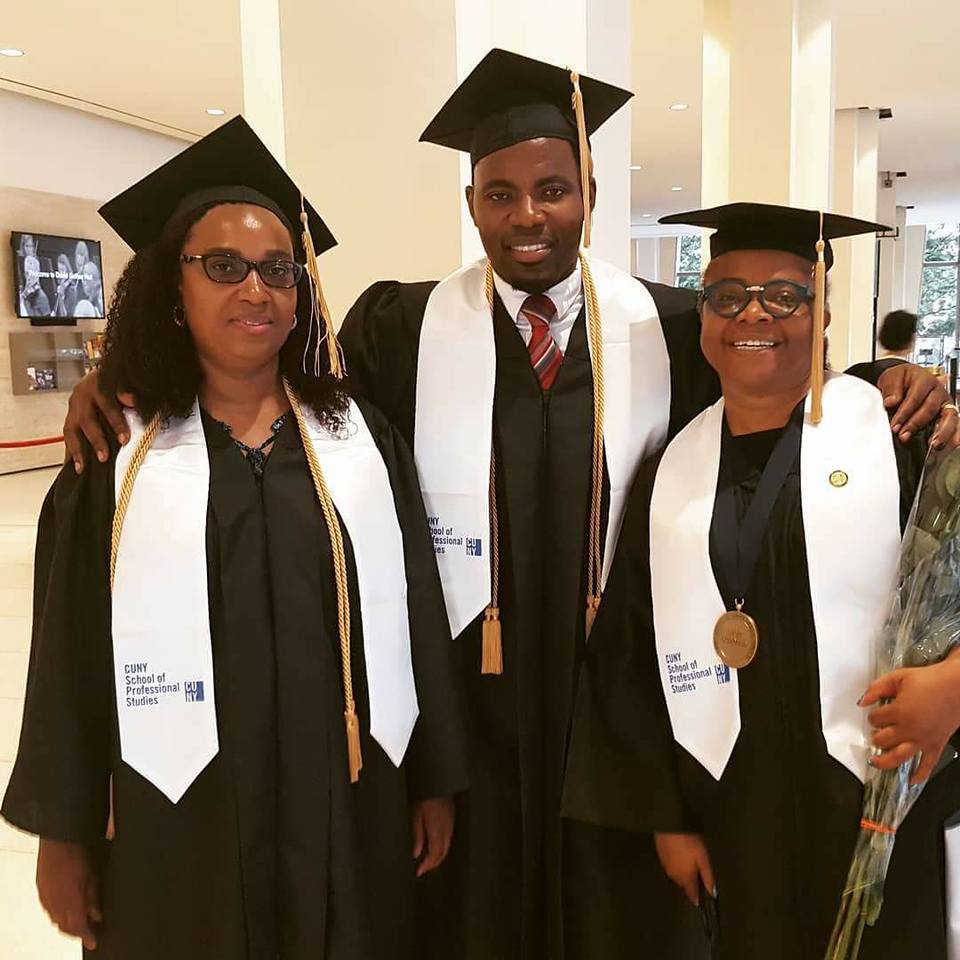 He met with Sierra Leone's best musician then, Jimmy B, who helped him modelled his music career with the help of other Guinean musicians like the late MC Chanama, Bill de Sam, Kill Point, Straight Pholosophe and more. Saj returned back to Freetown, Sierra Leone in 2000 and with the help of Sahr Issa (a producer), they formed the first musical group in Sierra Leone called 'Planet Sound.' His connections and interactions with Jimmy B in Conakry gave him (Jimmy) the courage to bring a studio in Freetown in 2001. Saj became the group leader for Paradise Family after he had signed for the label. He then released his first hit single titled 'Baby joe' before releasing 'Congratulation', in his first album titled – Salone Na We Yone.
The Paradise Family ended in 2002, and in 2003, Saj went solo and released 'Corruption E Do So', (under the Daddy Saj Entertainment) which became a public anthem. The song exposed high-grade corrupt practices within the then government and spread like wild-fire in Sierra Leone and across Africa, in terms of airplay on radio stations and public places. Its radio airplay was shortlived due to threats from government officials to ban it, which they deemed was a catalyst for public unrest.
After that album, Saj released 'CheChe' in 2004, followed by 'Dirtiest Part' and others in 2005. Daddy Saj released 'Water Melon Politics prior to the 2007 general elections. In 2012, he released 'You Go Learn'.
In all his five albums, Daddy Saj was able to deliver his concepts in Krio and English blending rap and traditional goombay flavours. His music career was so far a success story, with his songs making it to the African compilations.
Daddy Saj was known for his popular slogan – 'Fayamambo' (Krio greeting – 'peace be with you'), and the respondent says – 'Lef bad hat bo' (loosely as- 'abstain from bad heart'). Saj says the slogan has a spiritual connotation. "Every time I say 'fayamambo' on stage, it destroys the powers of everyone with evil intentions."
Academic journey…..
Joseph Cole aka Daddy Saj started his schooling at the Saint Anthony Primary School in Freetown before proceeding to the Government Model Secondary School, where he attained his 5th form. He couldn't take the GCE O'Levels exams due to lack of financial support. Cole therefore opted to study Building Construction at the Trade Center in Kissy, Freetown. But his academic journey wasn't going as planned due to poverty, war and lack of encouragement.
After the war, Daddy Saj started recording music with Paradise Records, where he got his breakthrough and later dominated the art in Sierra Leone. Upon reaching his apex in music, he travelled to the United States of America.
In 2010, Cole started college in the States with prerequisite courses which were non-credit classes, because he did not have a high school diploma or certificate from his home country, Sierra Leone. In 2011, he officially started the college's credit courses and later earned his first degree as a Registered Nurse AAS associates degree in 2014.
Cole left to make money for two years and returned back to continue his academic mission in 2016. Two years later in June 2018, he graduated with another degree, RN-BSN Bachelor's Degree in Health Science from the City University New York School of Professional Studies.
"As a musician, I sacrificed my life to create awareness about the misuse of power and public funds by politicians," he said.
Now living in the USA, I have decided to upgrade myself by attaining a relevant university degree that I can take to my home country and help my people, which has always been my mission."
"To one day become a doctor in healthcare delivery has always become my greatest passion which was impossible in Sierra Leone, but now that I live in the US, I sacrificed my music career and comfort to achieve this dream," he continued.
With Cole's above academic trajectory, his academic journey is not done yet, as he has already enrolled in a Masters Degree program to become a health practitioner in addition to his studio work.
"I am currently in studio doing more songs that would positively impact my country."
As a Born Again Christian, Daddy Saj wants to use his music to educate the people on how Sierra Leone can be a better nation. On where he throws his weight, he responded, …."Music is my passion and to become a doctor is my long standing dream."
Daddy Saj decided to share his story in order to inspire young, who think they can't continue with their dreams due to the challenges they are facing. More importantly for his colleague musicians who think going back to school is a bad thing. He gave tribute to the late rapper – Shine The God Son, who deprived his music career and comfort to pursue his university degree. Who else will follow suit?
"I'm proud to say I'm a symbol of hope to many youths…"
To his colleagues, he drops it below:
"My advice to musicians is for them to use their music to impact lives, not for personal gains." At the end of the day, the people will remember you for the sacrifices you made to improve the lives of others,' he stated.
Congratulations to Daddy Saj