Sierra Leoneans facing difficulties in China due to Corona virus
Sierra Leoneans facing challenges in China due to Corona virus and sending message to the Sierra Leone embassy to get involve and assist.
Videos circulating online showing Sierra Leoneans and other Africans been treated badly. According to Mohamed Lamin, one of the students been quarantine at the hotel stated, they were previously on a 3 months lock down which they obeyed and follow all instructions from law authorities in China. During that period a test was carried out, they were given an all clear and tested negative of Corona virus and issued them with a certificate for their own record in case been stop by the police says Mohamed.
The original video that went viral

Few days ago an issue lead him and some other people went out to witness which involves Nigerians and they decided to buy food thereafter. On return back to their apartments they met the police at their door who told them they have to do another tests and will be taken to an hotel. Mohamed Lamin then suggested for the police to call the Sierra Leone embassy and inform them of the new development as well as making them aware of where they will be taken their citizens to if second quarantine needs to take place, even though they were given an all clear on the first test.
Mohamed Lamin then contacts the ambassador more than 3 times at that period yet no response until later on when they were taken to the hotel eventually he was able to speak to the ambassador and he told him of the new development. At that time they had no clue of their destination or the name of the hotel. During the call made to the ambassador Mohamed Lamin was expecting the ambassador to ask questions to the Chinese authorities such as their safety and well-being. He was also thinking the ambassador and team would have made an effort to visit them at the hotel to see the situations they are going through since other countries did for their citizens after the first video they did went viral.
After some time at the hotel they came to do another swab and according to him things didn't look right as the swab kits had some liquids on it while the previous tests did not have it so they were panicked to do the swab however the swab was taken. The next day they brought them breakfast, they were promised food will be provided 3 times a day and that did not happen however two times it was provided. According to Mohamed Lamin they are not able to eat the food because they are afraid of their lives and the food doesn't look appropriate to eat plus they are not familiar with such food even though they eat Chinese food.
According to Mohamed Lamin and others they are not happy, they are worried, its frustrating and depressing for them, the stress is too much, the treatments they are receiving is not pleasant and hoping for the Sierra Leone embassy and Sierra Leone authorities to show serious concern and support towards their Sierra Leone citizens.
The Sierra Leone embassy have issued out a statement and press release to the public, according to them Mohamed Lamin and others are doing well which Lamin stated it's a big lie they are not fine. Mohamed Lamin added that the hotel they are currently staying at had people previously quarantined and their chances of getting the virus is at high risks even though they are negative of the virus at the moment. Mohamed Lamin also emphasised the fact that he and others are telling the truth and no harm intended for anyone to lose their job however the treatments they are presently facing is not good. In an interview, Mohamed Lamin mentioned that there are over 50 Sierra Leoneans going through ill treatments from the Chinese authorities and the Sierra Leone embassy is not doing anything to help or support their situation.
They are not able to sleep, no access to water or eat even when they have money to buy their own food which is not allowed only what they are giving them at the hotel. According to him, this situation is only affecting Africans and its distressing therefore wants the Sierra Leone embassy to help and assist as well as not to listen to wrong information on the media however only them that are facing the situation.
Press release from Sierra Leone Embassy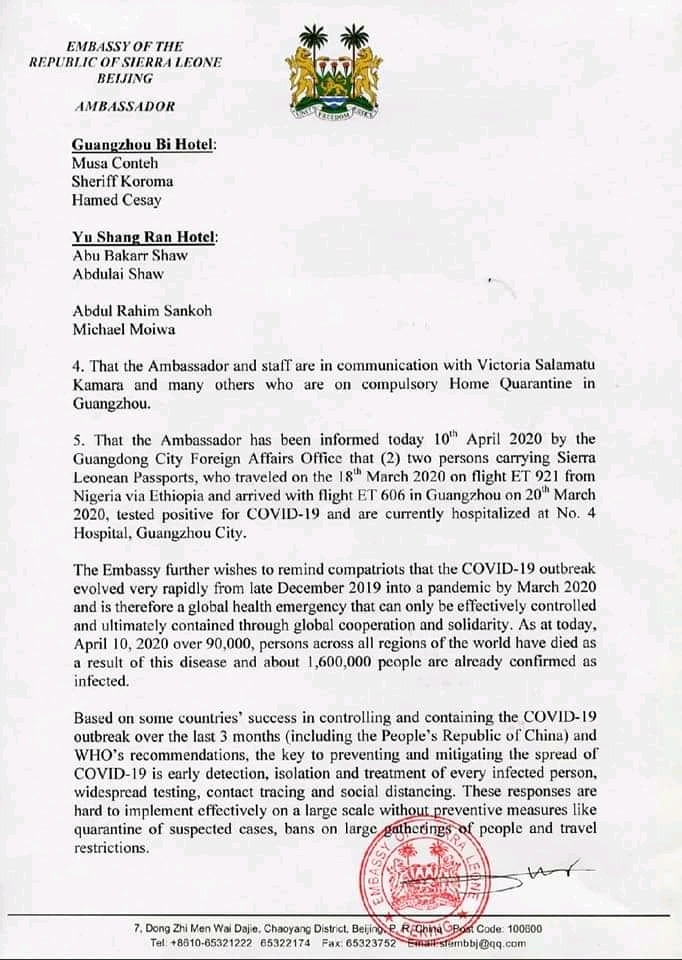 Her own side to the story of what happened to Sierra Leoneans and Africans in China