Salone U-17 Football Delegation Paid Courtesy Visit To Salone Ambassador In Senegal
On Monday 8th February 2021, at exactly 12 midday the WAFU U-17 Sierra Leone delegation to Senegal paid a courtesy visit to the Salone Ambassador in Senegal, Dakar to update him about their stay in Senegal. The delegation comprised of NSA and SLFA Officials, players, Technical Staff and accompanying Sports Journalists.
On arrival at the office the delegation was received by the second Secretary Madam Aminata Kargbo. Meeting with the Ambassador H.E. Alhaji Brima Elvis Koroma he heartily welcomed the delegation and expressed special thanks to them for travelling almost two and half hour drive to the office in Dakar. I appreciate your coming my Brothers and Sisters, you are welcome to your office. He said my main problem now is the office is too small as you can see, but very soon we are going to relocate to another big building that will accommodate all our facilities and staffs.
Remember that this Embassy was closed during the civil war but with God we have re-opened it. As I speak to you we have so many developmental projects and programs for my Country, first to start with will be the French language program for our people, because they are finding it very difficult to communicate with the Senegalese people. For this i will have to engage the Ministry Of Education in Senegal to help us with French teachers that Will handle this issue as soon as possible.
I have put in place some Industrial Projects from Senegal that I will discuss with my President to be instituted in the regions, by doing this, you will migrate the people from City to the regions. He asured us that there are so many developmental projects in Senegal if implemented will create so many jobs for the Youths in my Country.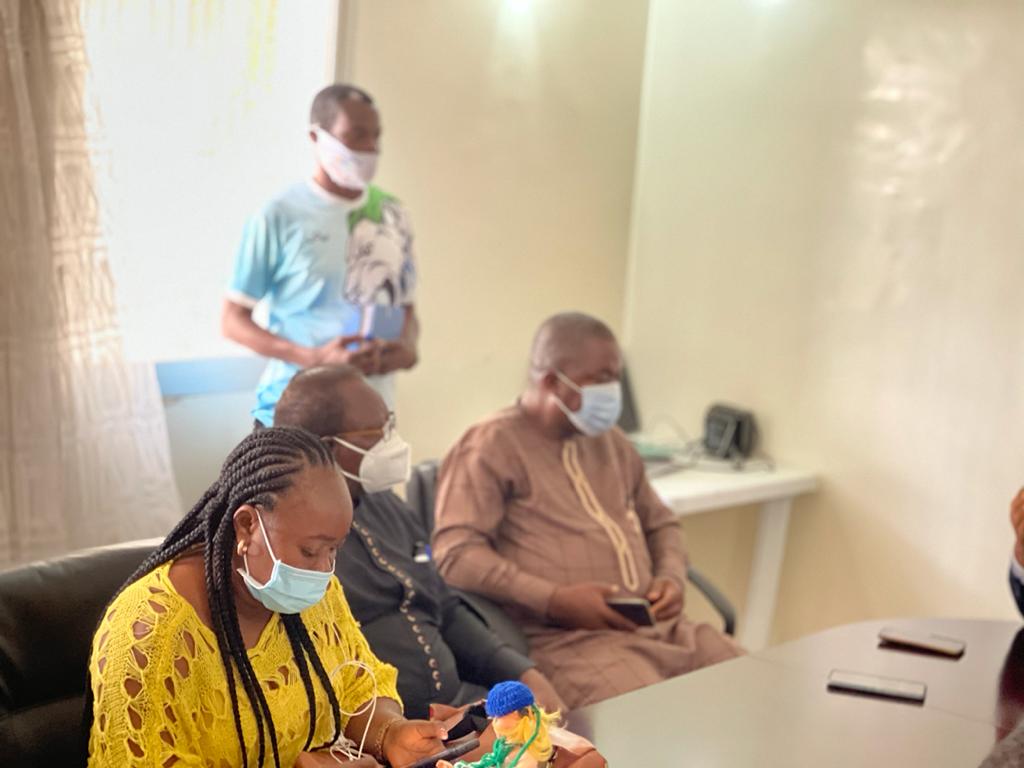 He asured the NSA officials that he has so many sporting projects from Senegal that he will give to them and I am always willing to work with you as a team. He appealed to both the NSA and SLFA Officials to put modalities in place as soon as possible to settle the impasse in football because without relative peace there will be no development, and Government funds will be wasted. He appealed to NSA and SLFA Officials to always inform him earlier when they have football Tournaments in Senegal so that he will make special provisions for food for the delegation coming. He advised them not to rely on the host Country's food. I wish you well in pending Tournaments.
In his Statement, the Leader of delegation for SLFA Harold Nat Johnson thanked the Ambassador for the good reception and his positive support and contributions during the two matches our U-17 Sierra Stars played in the Tournament. He assured the Ambassador that they will work with him and take his advise seriously for the development of football. I will update our executive members when I return home.Thanks Ambassador for recognizing the good works of Joseph Toby during his playing days.I am in full support of all what you have said. God bless you Sir.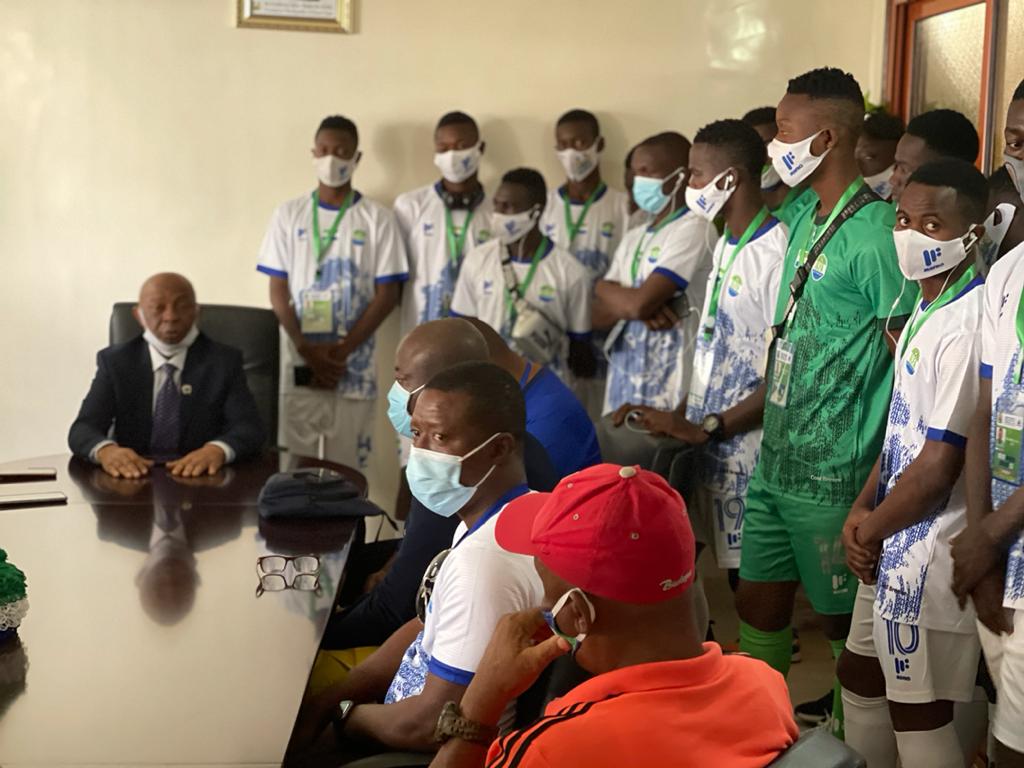 The Director of Competitions (NSA) Steven Kelfala in his Statement thanked the Ambassador for all he had said and the good reception. He told the Ambassador that the NSA is a new body form to develop Sports in the Country. He explained in details plans and projects that have been put in place to gather and develop the various Associations within the sports family. Some we have started, others we will start very soon. To confirmed to you Sir that our Government is serious towards the development of sports they have gave Le25Billion. Our main focus now is the SLFA elective Congress, that's why we came late to the Tournament. Last Friday we were in Parliament with the Parliamentarians, SLFA members etc to settle some issues with the FA executive. He assured the Ambassador that NSA officials will work with him seriously because he has very good plans if implemented will change the face of Sport in the Country. We are sorry for the bad performance of our players at the Tournament, when we return home we will address the issue accordingly Sir. God bless you Sir.
Parliamentary Oversight Sports Committee representative Hon. Banya expressed special thanks to the Ambassador for the hospitality Sierra Leoneans are enjoying in Senegal despite the language barrier. He thanked the Ambassador for all he has done for us during our stay in Senegal. He appealed to him to go ahead with the French program including the other projects he stated, especially the Industrial Projects for the regions which is a welcome news for the Country. I will report all what you have said to my Colleagues. Thank you Sir.
In response, the Ambassador thanked them for all what they said and appealed to the NSA Officials not to compromise with salient issues in Sports.Take the right decisions or actions when necessary, you are the hope of the players or athletes in your country. I wish you well. God bless you. Good Bye.
From Alex Lansana Claye In Senegal.(Di Pa ihn Yai) Stayblessed.