PRESIDENT KOROMA TO ATTEND KME (KABAKA MULTIMEDIA ENTERTAINMENT) OFFICIAL LAUNCH AFTER MEETING WITH HIM ON TUESDAY
By State House Communication Unit
The Kabaka Multimedia and Entertainment (KME) Company Tuesday officially presented an invite to President Koroma at State House to attend the launch of the company on the 28th April, 2017 at the Radisson Blu Mammy Yoko Hotel, Aberdeen.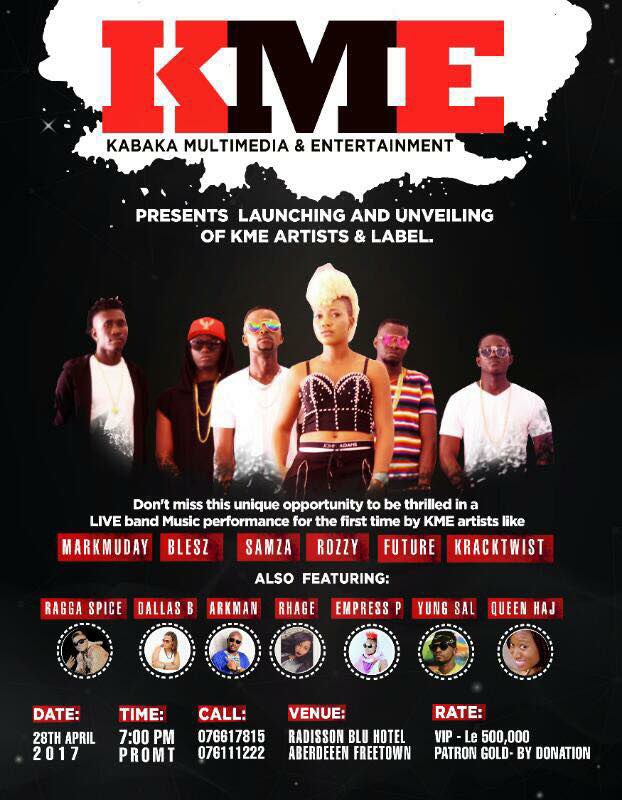 Presenting the invite to President Koroma, the Chief Executive Officer (CEO) and founder of KME, Lawyer Abu Bakarr Turay fondly called Kabaka said his vision is to see young people develop and grow to a meaningful height in society. He said his company has ten artists drawn from all regions of the country. He pointed out that the growth of the entertainment industry will significantly boost the growth of the economy and also transform the country's tourism and culture, adding that currently the entertainment industry needs someone with the pedigree and integrity to give the industry a facelift. He further said that KME supports capacity building and revealed that one of theirs (Young Lee) has been sent to Nigeria to study how to mix and master songs.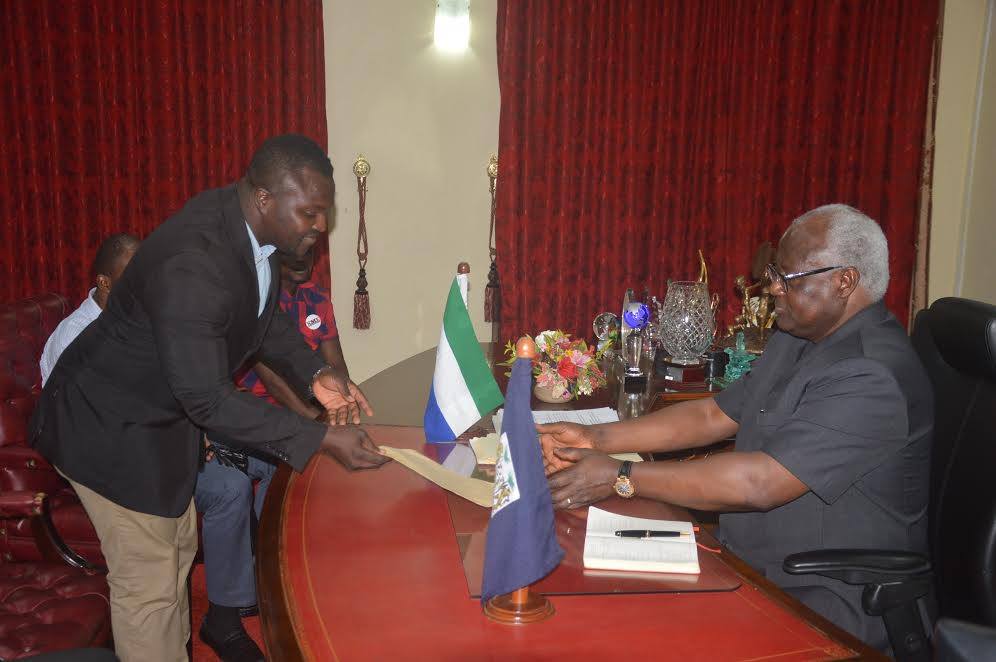 Receiving the invite, President Koroma thanked KME for the invitation and commended Kabaka for putting a structure that will create a platform to promote young talents in the country. President Koroma said that the young and successful lawyer has been motivated by the urgent need to build up the talents of young people in Sierra Leone as talents need to be nurtured in an enabling environment for them to thrive. This effort, highly acclaimed by the President will help the country to have another set of artists that will promote the country in the international arena.
The Chief Executive added that such ventures will create jobs, motivate young people and identify and discover talents. He assured them of his presence to grace the official launch of KME.