As Sara De Great spends 4 days in detention, celebrities storm the CID headquarters
By Ibrahim Sorious Samura
Sierra Leone entertainers on Thursday stormed the police Criminal Investigation Department (CID) headquarters at Pa Demba Road in Freetown to show solidarity with a colleague. Sierra Leone's biggest comedian, Ibrahim Habre Kamara, popularly known on stage as Sara De Great, had been detained on suspicion of involvement in the alleged murder of two minors. He was later released in bail.
On Saturday 21st July, the police was informed about the discovery of two dead bodies (ages below 6 yrs) in an abandoned vehicle (reportedly owned by Sara's landlord) at St. John, Wellington, eastern part of Freetown. Part of the allegation was that community people discovered drips of blood leading to the comedian's apartment. A red trouser said to belong to one of the victims was also allegedly found in his apartment. The discovery was done in the absence of Sara, who was in Bo City to play a football match between his organisation – Grassfields Veterans Organisation Vs Bo Veterans on the very day.
The news broke out on social media and Sara was informed about the incident by his wife. He put out series of videos on social media denying knowledge or any wrongdoing. After he returned to Freetown the following day (on Sunday 22nd July), Sara voluntarily reported to the Kissy Baracks Police Station. He was placed under arrest and later transferred to the CID headquarters at Pa Demba Road in Freetown for "protective custody," according to police who said investigations were being carried out by the police in Kissy.
On Thursday 26th July, Sierra Leone entertainers (DJs, film makers, comedians, musicians, journalists, fans, friends and family) paid visit to him at the CID. Expressing his sympathy to this media, Ibrahim Kalokoh aka DJ Kalloxx, said he believed that Sara would be proven innocent at the end of the investigations. "In as much as we sympathise with the parents for their dead sons, we strongly believe that Sara De Great is not a killer. I have known him for 15 years. We worked together at SLBS and I later became his manager when he signed for Money Making Machines. I have never known him for such acts. He believes in hard work," Kalloxx explained.
"I believe he will come out innocent after the investigations, that's why we are here so show our solidarity to him," he added.
Issa Saidu Sesay aka Flex De Captain, a musician and member of the Making History Productions, who was also at the CID, described the situation as a very sad one. He also believes that Sara is a role model who is highly respected in society and therefore couldn't have been involved in such act. "We know he is innocent. We are only praying that the police conduct a fair investigation, he said.
Yusuf Nana Cham, a film director and president of Eastern Film Union, asked for a fair and professional investigation by the police. He said Sara is not known for such acts.
In the list of high-profile visitors who stormed the CID were Camouflage, Arkman, DJ Tamba B, King Boss LA, Sister Mackie, Cee Jay Mark, Sir Wahid, Sana Gbingbin, Pilot CPO, Vicky Dave, Salamatu Kargbo aka Isha of Deep in the Game movie fame, Wilson Osman Wright, Inspector Bah, Kosombo, and a host of others.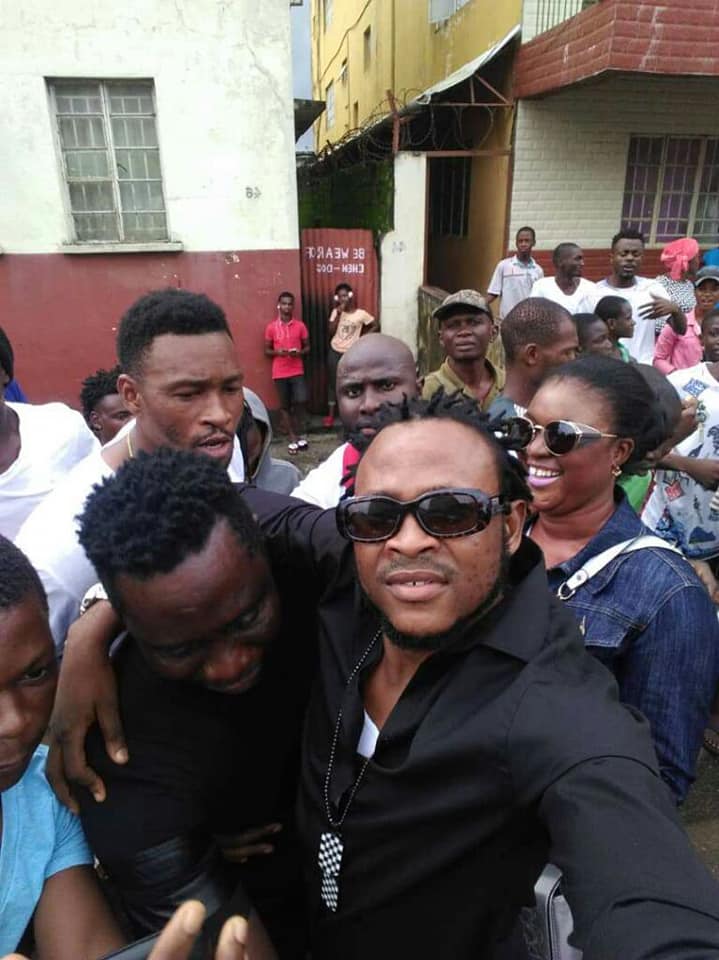 Sara has already gained public sympathy since the news broke out. Many believe he will come out clean. Part of the public opinion is that it was a deliberate ploy to falsely implicate him.
A popular Sierra Leonean musician – Innocent, currently based in the UK, posted a tribute on Facebook sympathising with Sara. He wondered why, after all the sufferings Sara has went through trying to reaching his current height of achievement, he didn't get involved in rituals until now. Amidst all the empathise and sympathies for Sara, there is still pressure of waiting to the end if this difficult experience. The police despite been released on bail, he could be called at anytime if new evidence implicating him on the matter emerges.
For now, it is thought that the boys died as a result of suffocation. Their bodies were met intact in the vehicle, with no reported mutilation, although there were allegations of drips of blood on the floor leading to Sara's apartment.
Sara's legal team includes Lawyer Fornah Sesay, Lawyer Osman Soura Kamara, Lawyer Abu Bakarr Iscandri and Lawyer J M Jengo. Speaking to me, Lawyer Osman Soura Kamara and J M Jengo Esq said that they were waiting for the police to conclude their investigations, amidst hopes of securing his bail.
Sara is also a rights and justice campaigner who has used music and comedy careers to advocate for justice. For instance, he advocated for justice for the murder of the late DJ Clef in 2015 and several other similar incidences.
I met Sara in his cell at the CID on Thursday. He was in tears, crying for help. All he could say was 'please pray for me.' It was a pathetic situation. Entertainers posted hastags with the messages – '#FreeSara' '#SaraIsNotAKiller', etc.